Brought to you by the lovely Ginger @ GReads
Friday, May 18th - A Book Blogger is Born: What made you decide to start your very own book blog?
I have told this story a thousand times, and she probably thinks I'm a crazed fan-girl/stalker for telling it yet again
Last July I was anxiously awaiting the release of  "Only Mine" by Susan Mallery – It was about 10pm and I was planning to stay up until I could download my pre-ordered copy on my Nook. I saw a tweet from Susan herself, it linked to a review of her book and at this point I thought only magazines and newspapers got their hands on early copies – so I clicked the link to see what it said! Lo and behold, it was Jess @ Gone With The Words  (Her Review of Only Mine) and I was in awe. I mean, this real person had a blog about books? And she got early copies? Ok; I didn't think I'd ever get early copies, but I'd love to just have an outlet to gush about my favorite books!
So I spent HOURS reading her blog, then I read some of the blogs she linked too. I was hooked. (And yes, I realize I was a bit of a stalker!) I decided right then that I'd start a blog – and reading my early reviews? *eek* I wish I'd have waited! *lol* I really have come a long ways, and there are so many things I'd do differently.
But now, almost a year later? Jess is still one of my favorite blogs, I check her site out daily and I know if she posts a book she enjoyed? I'll probably love it .
Hosted by Parajunkee & Alison Can Read, as a great way to find new book blogs!
Q: Summer Break is upon us! What would be the perfect vacation spot for you to catch up on your reading & relax?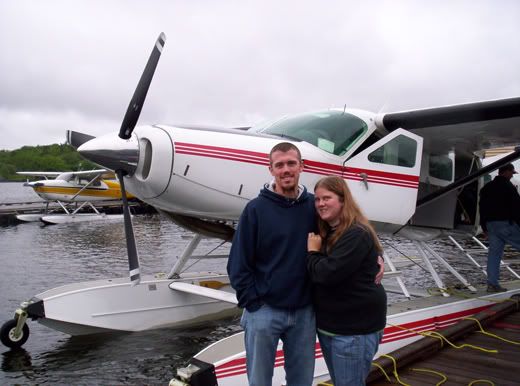 Ooo! This is such an easy answer!
5 years ago, my Father In Law took my husband and I on a fishing trip – up to Maynard Lake in Ontario, Canada. It was the most fantastic week in my life – it's this beautiful fishing resort that is so secluded you have to fly in on a float plane!
The landscape is gorgeous, the resort only has a few cabins so you're limited to your group and one or two other groups of similar size. (There were 4 of us that year in our group…)  The days are spent on the water fishing (or in my case? Reading!!) and drinking beer. Lunch every day is a fresh caught shore lunch – it's TO DIE FOR!!!
Evenings are the most fantastic meals you've ever had in your life (Duck L'Orange, Rack of Lamb, etc, etc, etc) and then the evenings are spent relaxing with gorgeous views! (In our case, playing Scrabble and Reading!)
So if I were to take "The Perfect" reading vacation? I'd go back there, with a huge stack of books, several cases of beer and my fishing pole!